Between 1964 and 1981 humorist Jean Shepherd had 23 short stories published in PLAYBOY magazine. Each story was accompanied by an illustration that added to the enjoyment of the story.
I've been able to collect all of those illustrations as they appeared in the magazine.
I've scanned the magazine pages and stitched together those illustrations that span two pages.
So here are the illustrations as they originally appeared in PLAYBOY.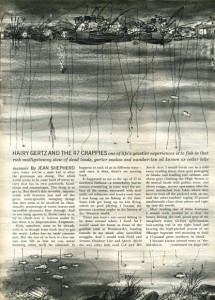 Hairy Gertz and the 47 Crappies
June 1964
Artist: Unknown